Welcome to Chess2U - The Ultimate Computer Chess Forum!
    If this is your first visit, be sure to check out the
FAQ
by clicking the link above. You may have to
register
before you can post and use all the
    features of the Chess2U forums. To start viewing messages, select the forum that you want to visit from the selection below.
Status

:
...

ELO

:
117

Posts

:
26

Thanks received

:
45



on Fri Sep 29, 2017 1:15 pm by
29/9/2017 Since today there is updated version 4 of RelaXchess available. RelaxChess is open!.
Since now relaxchess server is UCI compatible and it means that you can load it and play in any modern Chess game e.g. Arena.
It supports also chess game pgn and chess positions epd format. So you can exchange it with other games.
Other changes include bug fixing after fresh chess installation in GUI (no full size starting main frame, theme selection fix, invisible moves frame during analyzing), some minor chess engine improvements, updated manual.
RelaxChess is being developed in sometimes Spartans conditions without permanent live place. You can help in development donating  by pay pal to the following address
r.rusinkiewicz@gmail.com
. Thanks.
License number AAKKMLOJKINK1506683880885
It can be now downloaded from here
https://drive.google.com/open?id=0B__aSDtSFT5mQ2xxdzRaaUljeEk
3/10 Some fixes
RelaxChess in Arena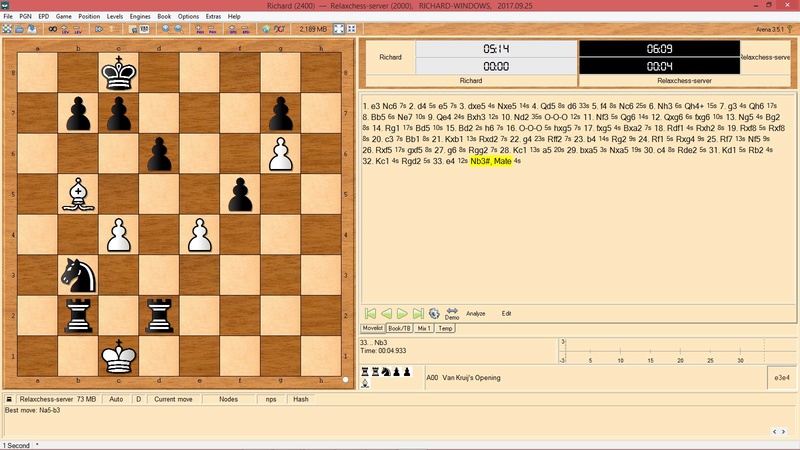 Last edited by Richard1964 on Tue Oct 03, 2017 1:52 pm; edited 1 time in total