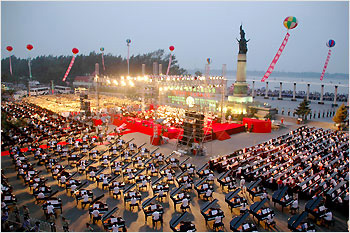 The 2010 Nanjing International tournament takes place from October 19th to October 30th in Nanjing, China. It is a ten-round double round-robin event, in which each player faces every other player twice, once with the white pieces, and once with black.
Time control: 40 moves in two hours then 20 moves in one hour followed by tha rest of the game in 15 minutes with a 30 second increment as of move 61.
Game start: rounds 1-9 at 2:30 PM local time (11:30 PM Pacific daylight / 2:30 AM New York / 8:30 AM Paris), and round 10 at 10 AM local time (7 PM Pacific daylight / 10 PM New York / 4 AM Paris)
Rest day: October 25th (after round 5).
players:
Magnus Carlsen (2826 Elo)
Vesselin Topalov (2803 Elo)
Viswanathan Anand (2800 Elo)
Wang Yue (2732 Elo)
Vugar Gashimov (2719 Elo)
Etienne Bacrot (2716 Elo)
The tournament is well funded as would be expected for such a field, and the total prize fund is 250 thousand Euros split as follows:
First place: 80,000 Euros
Second place: 55,000 Euros
Third place: 40,000 Euros
Fourth place: 30,000 Euros
Fifth place: 25,000 Euros
Sixth place: 20,000 Euros
From: Chessbase.com site