Before anything else, I just want to make it clear that I am not one of those people who claim their book is really good. In fact, if you ask me, I think my book sucks and how I wish I can learn to make a book like the authors of Vesely, Robot, No Fear, Silver Surfer, etc.
Having said that, here is another tournament I conducted and this is all for fun as far as I'm concerned. If you like it, great! My thanks to you. If you don't like it... well... I don't really care, hehehe.
AMD Phenom II X4 955BE @ 3.2GHz
TC = 0'+2"
Permanent Brain = OFF
Gaviota TB = ON
Number of Games = 84
Participants:
A = Robot28
B = Katili135
C = hello
D = No Fear 8
E = Silver Surfer 1.3
F = Vesely
G = Silver Surfer 1.2
H = X Kill
RESULTS: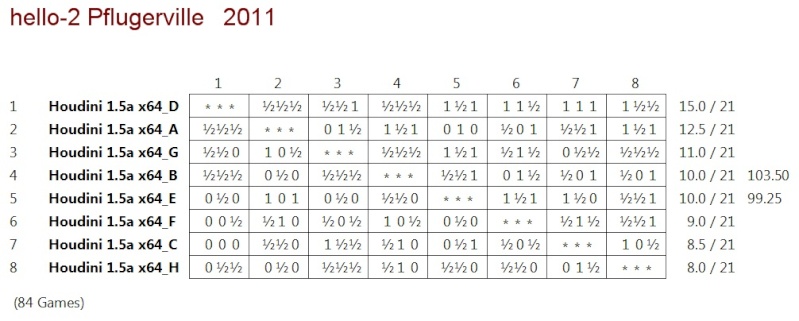 Games PGN:
hello-2