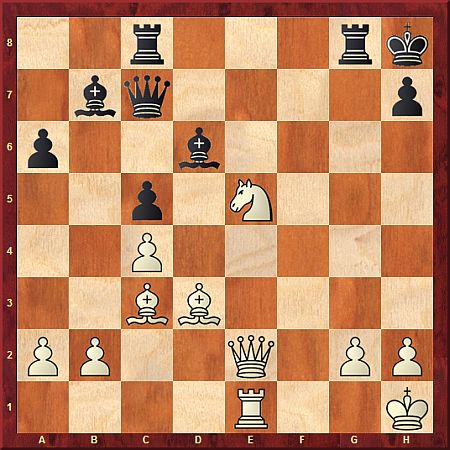 In this position, White had just finished playing 26.Cxe5, inviting his opponent to play 26 ... Rxg2. What then leads to victory then?
A) 27.Cf7 28.Ch6 + + Kg8;
B) 27.Cg4 28.De6 + + Kg8;
C) Neither, black will always be able to save his neck with a (counter) check to the discovery.
http://www.chessbase.com/espanola/newsdetail2.asp?id=9667
http://www.chessbase.com/newsdetail.asp?newsid=7281
http://www.chessbase.de/nachrichten.asp?newsid=11774
solution:
http://chessbase.com/cbm/reeh2011e/25lederle_mertens.htm


Last edited by picasso on Fri Jun 10, 2011 7:54 pm; edited 1 time in total (Reason for editing : update 3 languages link)