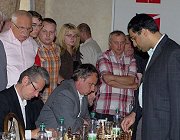 The Prague Chess Society performs in the Czech capital at the time a high-level chess event. The focus of the contest between David Navara and Sergei Movsesian, in which after two draws will be the third match played today. Prior to Sunday's World Cup had the highest self, Viswantahn Anand opened the event with a simultaneous. Other prominent chess personalities as guests on site, such as Anatolov Karpov, or participate as Vlastimil Hort and Lubomir Kavalek. Also appearing at the opening no less than President Vaclav Klaus, Czech Republic, also a great chess player. The venue is the famous Prague Michna Palace.
Event page ...
http://www.praguechess.cz/poradane-akce-detail.php?id_akce=24&akce_menu=program&znak=0
Games and Impressions ...
http://www.chessbase.de/nachrichten.asp?newsid=11802