06/15/2011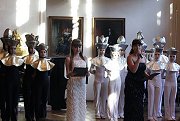 Today began in the southern Russian city of Taganrog, located at the mouth of the Don at the Azov Sea, the "Higher League" tournaments (June 15 to 26) to qualify for the "super-finals" of the Russian Championship. In the men's tournament, with 62 participants, three places are awarded for the final tournament. In the women's tournament, which involves the 34 players who qualify the first five players. The favorites of the men's tournament, Dmitry Yakovenko, Alexander Morozevich, Evgeny Alexeev and Boris Grachev all started with victories in the competition. Tatiana Kosintseva, the only woman in the Open tournament Alekseev defeated. In the women's tournament is the Valentina Gunina Elofavoritin.
Tournament Page (Russian Chess Federation) ...
http://russiachess.org/
Tables, games, impressions ...
http://www.chessbase.de/nachrichten.asp?newsid=11804