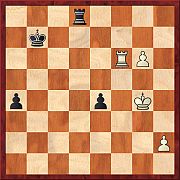 A thrilling race saw the game of pawns Hector Tikkanen, played in Malmo at the 19th Sigeman & Co. The connected passed pawns on the kingside is a power, but also has two black pawns, which can be very dangerous. White on the train now had to decide what is to follow the two rules of thumb known it:
- Farmers need to run free, so 54.g7, or
- Towers are behind the pawn (even behind the enemy!), So 54.Te6 Which train would you chose?
http://www.chessbase.de/nachrichten.asp?newsid=11805