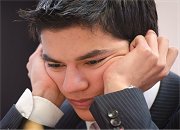 twice Black, twice Najdorf won twice - with a short sprint on lap 5 and 6, Elo-favorite Anish Giri sat at the Dutch Championships in Boxtel three laps to go to the top of the field. With half a point behind Giri, Robin Swinkels, Sipke Ernst and Wouter Spoelman share the places 2 through 4 In the women leads the favorite. Zhaoquin Peng, eleven times in a row since 2000, Dutch national champion, seems determined to win their twelfth title in a row and 6 out of 7 she has a good chance to do that. ...
Tournament page
http://nk.schaakbond.nl/nieuwsberichten/2011-1/ijzersterk-deelnemersveld-nederlandse-kampioenschappen-schaken
tables, games, impressions ...
http://www.chessbase.de/nachrichten.asp?newsid=11865