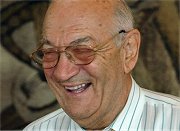 on 23 March 2011 celebrating his 80th Viktor Korchnoi Birthday, he still plays chess and still going strong. He was in the Swiss championship 2011 in Leukerbad Swiss Champion for the fifth time. Was carrying out the Swiss championship in an open tournament in which the Swiss were the top ranked national champion. This Open was won by Frenchman Christian Bauer with 7.5 points from nine rounds, second place went to former world championship candidate Andrei Sokolov, who also plays for France. Korchnoi ended up with 6.5 points along with eight other players on the split third to tenth place. Abandon the fight for the title is then continued by Korchnoi against Joe Gallagher. Best German was Sebastian Siebrecht, he also got 6.5 from 9th The title of the Swiss national champion went to the Russian-Swiss dual citizen of Alexandra Kosteniuk. ... Results from the Swiss Chess Federation ...
http://schachbund.ch/index.php
Viktor Korchnoi My Life for Chess buy at the store ...
http://chessbase-shop.com/de/authors/68