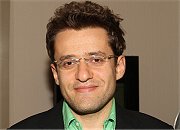 Armenia's chess country. Armenia has 3.2 million inhabitants, fewer than Berlin, but 33 grandmasters. On the FIDE world ranking list, the Armenians Countries are ranked 6 and at every international team competition, they are among the favorites. So also in the Team World Championships, who yesterday in Ningbo, China, began. Ten teams go to the start, is played on four boards. Once in the first round of confirmed Armenia's favorite status with a 3,5:0,5 victory against Israel. Russia won 3:1 against the U.S., the Ukraine against 2,5:1,5 Egypt. The matches against Azerbaijan, China and India ended in 2-2 draw against Hungary. tournament page (Chinese) ...
http://chess.sport.org.cn/
results in Chess-Results ...
http://www.chess-results.com/tnr53136.aspx?lan=0
lots and highlights ...
http://www.chessbase.de/nachrichten.asp?newsid=11908