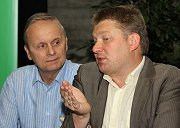 The most spectacular part of the 6th Traditional game day at the Chess Festival Biel, Alexander Morozevich and Alexei Shirov. Miso Cebalo commentator asked why the audience for applause, as were the two top grandmasters took place for joint analysis. "I think neither of us is satisfied with the verdict," said smiling Shirov in relation to some tactical errors in the just-ended game, but very glad, but the applause from the audience Bieler. Also instructive are the joint analysis of Magnus Carlsen and Maxime Vachier-Lagrave and Fabiano Caruana, broadcast live at the Fritz server, and also recorded in ChessBase Youtube channel available in full length. ...
Tournament page Biel pictures,
http://www.bielchessfestival.ch/de/home/
videos, analysis ...
http://www.chessbase.de/nachrichten.asp?newsid=11952