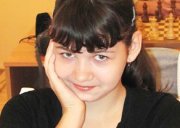 is played every year in St. Petersburg Ludmilla Rudenko Memorial, this time in the last week of August. The second World Chess Champion was born in Lubyn a long time lived in Moscow and then moved to St. Petersburg, where she was until her death in 1986 at home. 1949/1950 Rudenko won the tournament, but lost the title again in 1953 in competition against Bykowa. Held at the Memorial Tournament, with nine rounds in Swiss system, was attended by 43 players - well, because the tournament belongs to the Russia Cup qualifying series. Elofavoritin was actually Romanko Marina, which came at the end of 5.5 points and placed in the upper midfield. Superior winner was, however, Aleksandra Goryachkina. The tournament winner is only thirteen years old and distanced the rest of the field at 7.5 points to a full point. Evgeniya Doluhanova also participated, was second, and delivers her report with a glimpse of the St. Petersburg Women's chess scene.
Tournament page report...
http://www.totalchess.spb.ru/
pictures, tables, games ...
http://www.chessbase.de/nachrichten.asp?newsid=12097