London Chess Classic 2010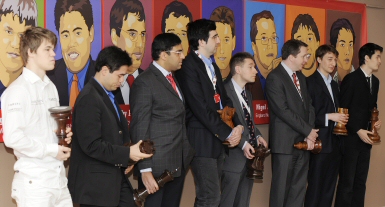 The second London Chess Classic will take place from 8-15 December in Kensington, London.
Last year's inaugural event was won by Magnus Carlsen, and he is back to defend his title. In fact, all of the players from last year return except Ni Hua of China. Replacing him is the world champion Vishy Anand!
So an already attractive event has got even better, with four of the world's elite (Anand, Carlsen, Kramnik, Nakamura) and four of the best of British (Adams, Short, McShane, Howell) fighting over a prize fund of €145,000.
The format is a single round-robin with classical time controls (first 40 moves in 2 hours, next 20 moves in 1 hour, then 15 minutes plus a 30 second increment to finish) plus "Sofia Rules" in operation.
From: Chess.com site
More Info: London Chess Classic 2010