London Chess Classic Winner 2010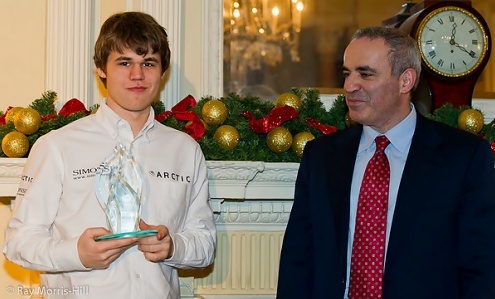 At the prizegiving, held at Simpsons in the Strand on the evening of 15 December, the trophy and winner's cheque for 50,000 euros was presented to the tournament winner, Magnus Carlsen.
Magnus Carlsen clinched first place and the 50,000 euros first prize in the 2010 London Chess Classic at Olympia on Wednesday with a consummate positional win against England's Nigel Short. Theirs was the second game to finish but the tie-break ensured that Magnus would take first regardless of other results.
Vishy Anand and Vlad Kramnik drew their game and the two results should also see Magnus Carlsen Carlsen reclaim his place at the top of the official rating list in January 2011. His mentor Garry Kasparov was present at the venue to comment on the games of the final round and see his protégé win the tournament for the second successive year.
From: londonchessclassic.com
All Games: Download