Reggio Emilia - Paco blasts Short and leads with 3013 performance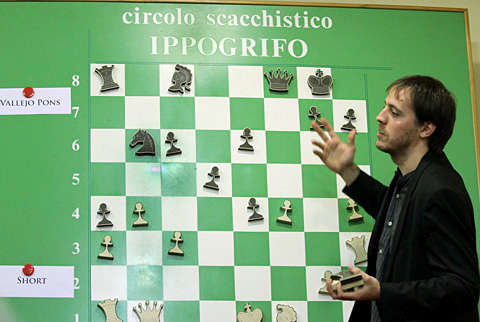 While Nigel Short had seemed constantly to rise from the ashes in his games, Vallejo-Pons had been the most inspired player so far. Their game confirmed the Spaniard's great form as he played an exceptional game, winning with a beautiful middlegame melee. On the rest day, Morozevich started his year with a win over Navara, joining Short and five others on 50%.
After three rounds, two players had broken early from the pack: Nigel Short, and then Spaniard Vallejo-Pons. Short had reached his score almost by miracle, reaching dire to lost positions in all his games, and yet somehow coming back, distributing bad beats to his opponents' pocket aces. Paco had reached his front-runner position via a different route, and their round four encounter was looked forward to, to see whether it was better to be lucky or inspired.
Source: chessbase.com
Games: Download