Van Wely Wins 4th Berkeley International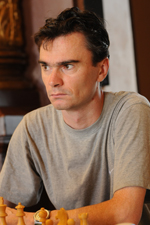 Dutch GM Loek Van Wely (pictured) took first prize in the 4th Berkeley International, organised by Arun Sharma and David Pruess of Chess.com which ran from 2-8 January.
Over 50 players competed in a 10-round Swiss format, with many being familiar names to Chess.com members!
The tournament also provided an opportunity for many players to attempt to gain title norms, and several were successful, including Sam Shankland who finally achieved his third GM norm.
From: Chess.com
4th Berkeley International