Tata Steel Rd.5: Anand, Carlsen win, Grischuk loses to Wang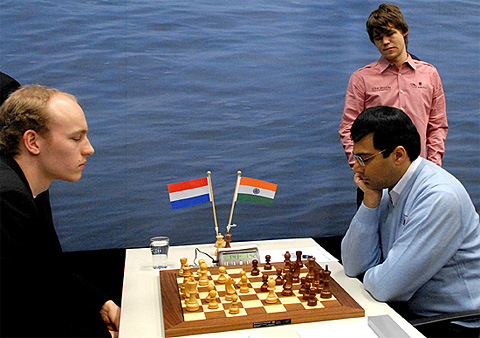 Viswanathan Anand applied systematic pressure on Jan Smeets until the Dutch GM blundered and gave the World Champion the sole tournament lead. Magnus Carlsen did pretty much the same to Erwin l'Ami, only to blunder the won position to a theoretical draw – which the amazingly determined Norwegian GM went on to win! Alexander Grischuk lost to Chinese GM Wang Hao.
The leadership switched hands in the fifth round, with both pole positions enjoying kindnesses from their opponents, but Anand more so.
Nakamura once again found himself with a difficult position, this time against Ponomariov, and decided to try to solve his problems tactically. It didn't quite work, as the Ukrainian was still better, but the weakness around Ruslan's king was not to his liking, especially against a player renowned for finding unexpected solutions and a draw was agreed.
Anand, playing Black, had a good game against Smeets and eventually pressured him into a cramped, unpleasant endgame after sacrificing the exchange. The Dutch player held true and was still clinging to a drawn when he hallucinated, jettisoned a pawn and quickly lost. With this gift, the World Champion is now in the lead with 4.0/5 followed by Nakamura on 3.5/5.
Another decisive game of the round was Wang Hao's strong win against Grischuk, though both continue to populate the bottom half of the crosstable.
The longest game of the day was Carlsen-l'Ami which went past the 90-move mark. The number one managed to keep a slight edge throughout the game but never seemed to be able to push it toward a full point. A mistake by Smeets changed this, and suddenly it seemed like a clear win for Magnus. Then 20 moves later, Magnus returned the favor, and found himself in a theoretically drawn rook and knight versus rook endgame. He pressed on, understandably, and his persistence was finally rewarded as the Dutch player failed to find the correct defense.
In the "B" group, McShane continues in sole lead despite two draws in the last couple of rounds, though Efimenko is now breathing down his neck after beating Navara in round five.
In the "C" Group, Ukrainian prodigy 14-year-old GM Ilya Nyzhnyk is in a race to catch up with GM Vocaturo, after winning his round five game. But the Italian GM seems to be on a magic ride, after winning a dead lost game in round four, and now picking up a full point in what should have been a drawn endgame in round five.
From: Chessbase.com