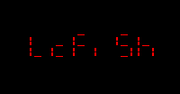 LcFiSh introduces NNUE technology into the lc0 ecosystem. As the NNUE code greatly benefits from the latest processor features the arch build option was added to specify the processor architecture, as in the following example: CXX=g++-9 CC=gcc-9 ./build.sh -Darch=x86-64-avx512-vnni Use meson configure to see the accepted values.
Code:
https://github.com/borg323/lc0/releases/tag/lcfish
(Edit) Sorry. Did not see the engine listed in the Stockfish thread.