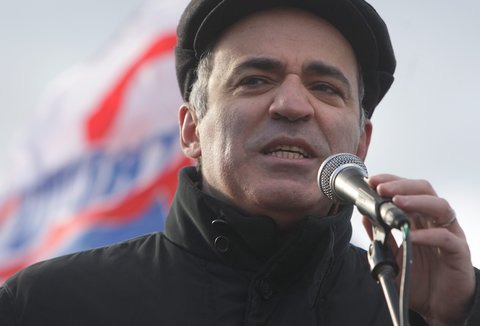 Garry Kasparov, the former world champion, retired from chess in 2005, but he has not rested on his laurels. He has become involved in Russian politics as a leader of a the government opposition, hit the speaker circuit, and become a prolific author, mostly on chess, though he wrote a business strategy book, "How Life Imitates Chess: Making the Right Moves, From the Board to the Boardroom" (Bloomsbury USA, 2007).
His five-part chess-book series, "My Great Predecessors," which he began publishing in 2003 and finished in 2006, has become a part of the libraries of many chess players. His current series, "Garry Kasparov on Modern Chess," which started in 2007, looks at the development of opening theory through the prism of games involving top players (mostly himself and Anatoly Karpov).
Part four of the series, "Kasparov v. Karpov 1988-2009" (Everyman Chess), was released this month, and Kasparov will hold a book-signing Sunday at 4 P.M., at the Barnes & Noble at 150 East 86th Street in Manhattan.
http://gambit.blogs.nytimes.com/2010/11/03/kasparov-book-signing-in-manhattan/