Welcome to Chess2U - The Ultimate Computer Chess Forum!
    If this is your first visit, be sure to check out the
FAQ
by clicking the link above. You may have to
register
before you can post and use all the
    features of the Chess2U forums. To start viewing messages, select the forum that you want to visit from the selection below.
Go to page :
1, 2, 3, 4, 5
Status

:
...

ELO

:
14406

Posts

:
4547

Thanks received

:
8593

on Fri Oct 17, 2014 7:52 pm by
@ful

wrote:There are motherboards that support two i7 5960x ??? As in xeon ???

 
From what I have read, the most popular and powerful motherboard to use with the New i7-5960X is the ASUS Rampage V X99 architecture board. This is a picture of the board front on: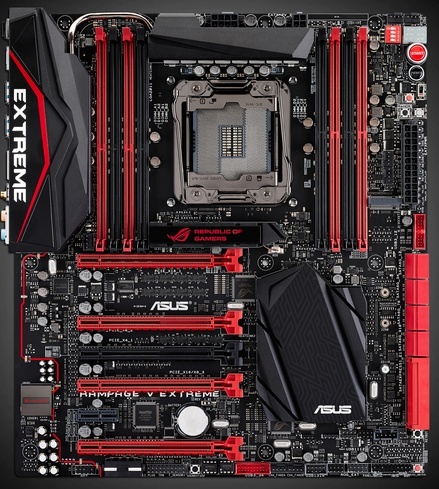 Although there is only one CPU slot, look at how big the CPU is!
Also, I noticed there are FOUR! slots for GPUs...
________________