I came up with a creative idea from which I got the idea of starting a new kind of tourney
in light of this custom made, handmade matches which are not traditional
https://www.chess2u.com/t7618-stockfish-sep-28-3250-vs-stockfish-sep-7-3250-new-kind
this new tourney I'm starting is in line with the above "new kinds" of matches
this new tourney is akin to the above "new kinds" of custom made matches; but this new tourney is not analogous to the above "new kinds" of matches in many ways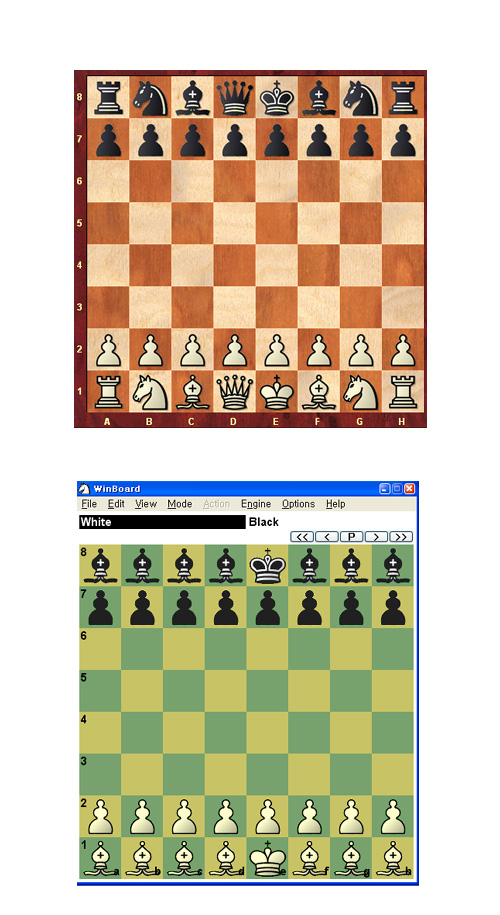 like the above illustration shows
it's gonna be a holistically discrepent but profound tourney that is subtle in nuance in terms of the searching and calculation of engines
let me delve into the tourney setting and elaborate what kind of new tourney I'm starting
I read everything and all the words in this stockfish dev page:
http://abrok.eu/stockfish/
and I heard many important things about chess programming
if I reminisce about what I can remember from reading many chess related articles
programming for bishop is a lot more complicated than programming for rook or knight cuz bishops move diagonally and that's not easy to write a code for
***
thus, from the above picture
we can see 2 chessboards
the above board is the traditional chessmen set up
but the below board set up is custom made and non-traditional
I'll start a new tourney with that below board set up
the purpose of this tourney is to have fun and to know which engine can do the adroit bishop tactics and strategies
***
but here is some subtle thing
since there is no such an opening book for this kind of handcrafted positions
I can't run hundreds of matches let alone dozens of matches
so I'll only include 4 best engines from my rating list
***
the roster is as follows: (in alphabetical order)
critter 1.6a
gull 2.2
houdini 3 pro
stockfish Sep 28
the 4 engines will have a knockdown type tournament
I just put them in this kind of group
I just thought houdini can win the 1st round
and stockfish can win the 1st round
then houdini and stockfish can have the 2nd round that is the grand final
houdini 3 pro
critter 1.6a
stockfish Sep 28
gull 2.2
***
but here is something important
and that is of importance and fun
since we don't have such opening books for that kind of handcrafted starting positions
I can't even run dozens of matches
so the engines will only have a few matches!
and that's the point of this tourney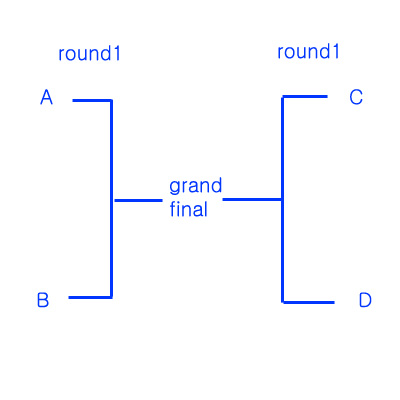 so, in (left) round 1
engine A and B will have 2 matches
and in (right side) round 1
engines C and D will have 2 matches
so the 2 winners of the tourney will proceed to the grand final
and at the final, the engines will have 2 matches again to have the champion
***
and yes! having only a few matches is the key point that is quintessential and rudimentary for this new tourney
cuz if two engines only have 2 matches with one another
the result is totally unpredictable and precarious
of course, the stronger engine will have higher chance to win the round but still we can't postulate or guess which engine will win the round since the elo fluctuation and the elo gap are too big when engines only have 2 matches
it is almost impossible to predict which engine will win
so the purpose of this championship is to give a chance for all four engines
all four engines can have similar amount of winning chance
(cuz if an engine with 2600 and an engine with 2500 only have 2 mathces
it is possible for 2500 to win with the score of 2 wins and 0 loss!)
***
so, the purpose of this tourney is
- to have fun
- to give a fair chance of winning to all entries
- to have a tourney whose result is precarious (it is like a raffle or a lottery)
- but most of all, to see which engine is adroit at handling bishop and pawn combination
since bishop and pawn can have combinational moves
and it's not easy to make a good code for bishop
by the way, from the stockfish dev website aforementioned,
stockfish's bishop and pawn combo moves are very well tuned
and got a lot of careful attention and updates
so stockfish will have a good chance to win this whole tourney
***
later other members or I can do this kind of tourney with different starting positions!
(such as 8 pawns & 7 knights are included)
(or 8 pawns & 7 rooks are included or many other starting positions are possible)