I'll run season 4 of RPT (random position tourney)
after finishing season 3 of RPT (that is still undergoing)
this post is the vague plan for season 4 RPT
***
this is the amazing important manual on how to run many RPT automatically
RPT is random position tourney and
I found out the way we can do this all automatically
before knowing this info
I could only run 30 matches of RPT in 3 hours
now I can run billions of matches all automatically
(it only takes like a few minutes to set up the GUI
and tourney settings
then I only have to wait for the whole tourney to finish)
so when I didn't know how to run RPT automatically
it took 3 hours to run only 30 matches
now I know how to do it automatically
it only needs a few minutes of setup time to run billions of matches
and that's something
also I'm starting the random position tourney season 4!
***
RPT season 1, 2, 3 info & tourney rules are here
https://www.chess2u.com/t7772-the-season-3-random-position-tourney-with-strongest-engines
https://www.chess2u.com/t7641-multi-queen-tourney
***
after all kinds of testing
trying to load pgn, fen and so
I figured out how to manage this random tourney automatically
before knowing this
I had to set up the initial starting random board position
all manually step by step
so it took a lot of time
and I only had something like 30 matches in total
for the season 3 random position tourey
and even having 30 matches took a lot
since I had to set up the board position and GUI starting point
all manually
but now I can do this all automatically
I can have hundreds of thousands of matches
with a click of a button
(actually a few clicks of a button)
so the computer can run
unlimited number (it could be millions or billions) of
matches with random starting positions
(it could be one random position or thousands of different
random starting position
both can be done easily)
all automatically
***
in winboard tourney manager
choose "a file with start positions"
then "step thru line/positions in the file"
just check those
then when choosing the file
the file's extension is .fen
and in the fen file
just have many FEN positions like this
4rqrk/2p2np1/1p1p1p1p/p2P1P2/P1P1P3/3P2R1/3B2QP/6RK b - - 5 37
if I want to run 100 matches in total
there must be 100 or more lines of FENs
the first match will use the first line of the .fen file
the 2nd match will use the 2nd line of the .fen file
the 3rd match will use the 3rd line of the .fen file
and so forth
***
Zugzwang
from wikipedia
http://en.wikipedia.org/wiki/Zugzwang
reciprocal zugzwang = zugzwang
one-sided zugzwang = positional squeeze
***
Zugzwang (German for "compulsion to move", pronounced [ˈtsuːktsvaŋ]) is a situation found usually in chess, but also in various other games, where one player is put at a disadvantage because he has to make a move when he would prefer to pass and make no move. The fact that the player must make a move means that his position will be significantly weaker than the hypothetical one in which it was his opponent's turn to move.
The term finds its formal definition in combinatorial game theory, where it specifically means that it directly changes the outcome of the game from a win to a loss. The term is used less precisely in games such as chess, i.e., the game theory definition is not necessarily used in chess (Berlekamp, Conway & Guy 1982:16), (Elkies 1996:136). For instance, it may be defined loosely as "a player to move cannot do anything without making an important concession" (van Perlo 2006:479). Putting the opponent in zugzwang is a common way to help the superior side win a game. In some cases it is necessary to make the win possible (Müller & Pajeken 2008:173).
The term zugzwang is frequently used in chess. A player whose turn it is to move who has no move that does not worsen his position is said to be in zugzwang (Soltis 2003a:78). Thus every move would make his position worse, and he would be better off if he could pass and not move. Sometimes different chess authors use the term zugzwang in different ways (Flear 2004:11–12).[note 1] In some literature a reciprocal zugzwang (see below) is called zugzwang and a one-sided zugzwang is called a squeeze (Hooper & Whyld 1992).
***
zugzwang is another important test position
for RPT starting point
I think I will run the season 4 RPT tourney
with more than up to 10 engines
which will have up to hundreds of round robin matches
with a zugzwang starting position
this is an example of zugzwang
4rqrk/2p2np1/1p1p1p1p/p2P1P2/P1P1P3/3P2R1/3B2QP/6RK b - - 5 37
in nTCEC stage 4
6th match,
Stockfish 021113    Vs.     Gull R600    
many viewers say this is an amazing match
it is a zugzwung
many ppl predicted this match will be a draw
but SF penetrated gull's fortress
that was seemingly soild and invincible!
that was a fantastic match
SF turned a draw into a win
you should check out that amazing match!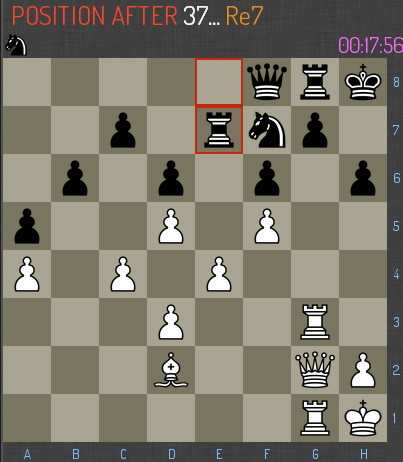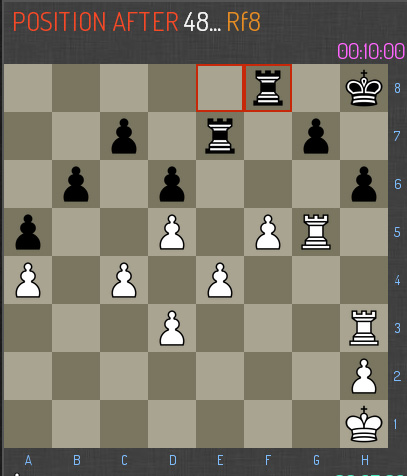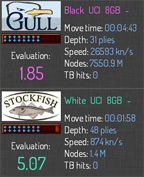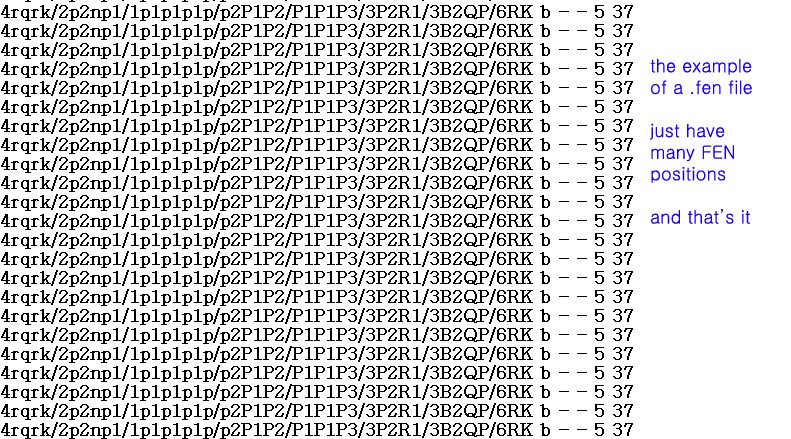 ***
I'll run season 4 of RPT (random position tourney)
after finishing season 3 of RPT (that is still undergoing)
this post is the vague plan for season 4 RPT