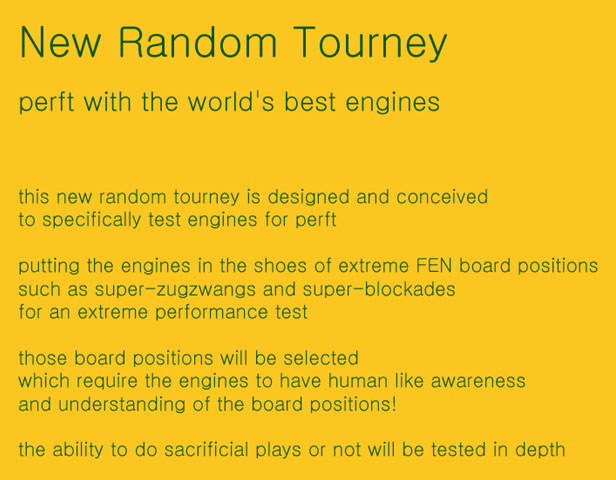 there have been the archaic random tourneys
each random tourney is different in characteristics and settings
so each random tourney was idiosyncratic
they are the following as follows

https://www.chess2u.com/t7782-strongest-engines-random-position-tourney-season-5
https://www.chess2u.com/t7828-a-new-kind-of-strategical-tactical-random-position-tourney
https://www.chess2u.com/t7774-season-4-world-s-strongest-engines-rpt-manual-how-to-run
https://www.chess2u.com/t7772-the-season-3-random-position-tourney-with-strongest-engines
https://www.chess2u.com/t7641-multi-queen-tourney
https://www.chess2u.com/t7863-the-next-gen-random-tourney-extreme-world-s-best-engine-test


***


and this is the "new" random tourney with different perft

the best engines in the past were as follows

Houdini 3
Strelka 5.1
Stockfish 241113
Gull 2.3
Critter 1.6a 32-bit


***


after many months there have been updates on many engines
so the latest versions of the world's most powerful engines will have new random tourney!

Stockfish 241113 to SF Apr. 30
Houdini 3 to H4
Strelka 5.1
Gull 2.3 to Gull 3
Critter 1.6a

the above is the updates on the entries


***


from the previous testing
SF didn't do well
when the board position becomes zugzwang or bottleneck
when there are many occlusions

this is the board position of the old random tourney
where and in which SF didn't play well

1r1b3k/3r1pp1/3p1R2/p1pPp2P/PpP1P1R1/1P4P1/2N2P1K/8 w - - 0 1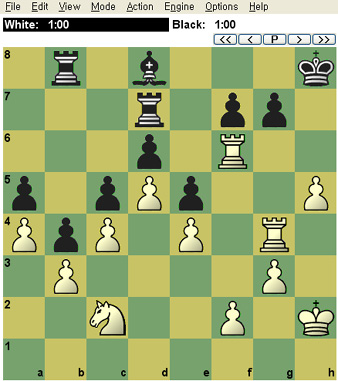 take this old board position
and run the new random tourney with this same board position
with newer versions of the engines should be a good perft and performance test

we can see how much the updated SF can do in this old FEN board position
where the old SF didn't do well


***


what to watch for from this FEN position

this FEN board position is very good for testing the engines in zugzwang and bottleneck
white is winning by +1.10 eval as soon as the round starts

as black, if black is very good at defending even in zugzwang
black will have a draw instead of a loss
when black should lose in this position

as white, if white is good at solving the bottleneck
white will get a win

in this FEN
the engines are put in an exteme situation and board position
that is super hard and tricky to solve
only the powerhouse engines with super powerful attack can do well in attack
and only with meticulous and intricate defending compotence
those with such qualities will prevail in defence!

*

H4 is known to be the best engine in zugzwang and bottleneck situation
H4 is specifically designed to play well in zugzwang and bottleneck
H4 can detect skillfully if the position is zugzwang
and change and apply tactics accordingly

SF a few months ago
H4
Strelka
Gull 3
Critter 1.6a

this is the power order in normal rating lists

but the following is the order of power in zugzwang and bottleneck situation

H4
Strelka
SF a few months ago
Gull 3
Critter 1.6a

those SF versions a few months ago became much weaker in zugzwang and bottleneck situation
but with this the latest cutting edge, bleeding edge, top of the line and top notch SF
I extrapolate what this newest SF will do better than before

*

even if we run 100 rounds with the exact same starting board position or a board position
almost all 100 rounds will be different
almost all of the 100 rounds will pan out very differently
almost always, no two rounds will be the same!
that's the reason why we can run random tourney with one starting board position
and we don't need many different starting board positions


***


the final result will be posted with detailed analysis of the match when done!

now this new random tourney begins!

*

also I ran more rounds for SF Apr. 30
and SF'e elo went up!

this is the interim result

3 Stockfish 300414 : 3303 38 38 164 53.7 % 3278 50.0 %
9 Houdini 4 Pro w32 : 3277 6 6 5944 50.4 % 3275 50.3 %

SF Apr. 30 became the first engine with the elo of more than 3300 in STC setting
this SF version will be partaking in this new random tourney



***
***



updates:

after hundreds of rounds
in round robin setting,
the whole tourney is done!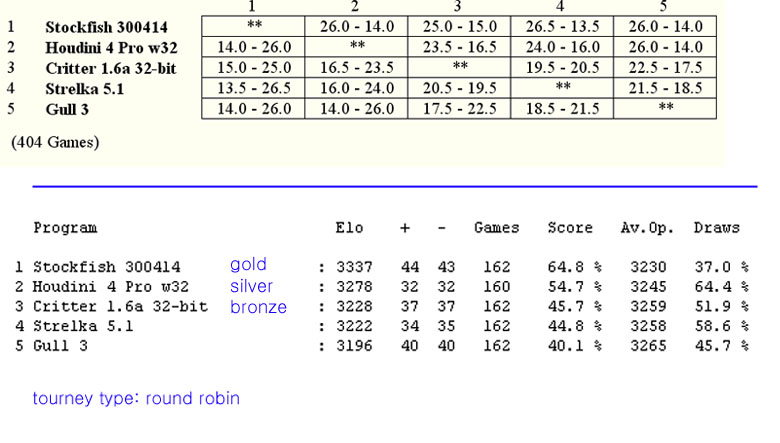 * gold: SF

* silver: H4

* bronze: Critter 1.6a

SF was weak in zuzgwang and bottleneck and blockade situation
but this latest SF is a lot stronger in such situations


***


whole pgn file download:
http://www.fileswap.com/dl/TXglMlBztd/r1.pgn.html
r1.pgn
570 KB